Vaxx Vaxxen von der Steinteichmühle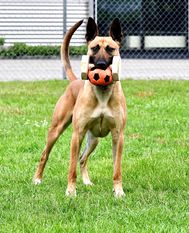 Rase:

Utvalg:

Malinois

avlet_i:

Fødselsdato:

22. Okt 2015 (5 År, 2 Måned)

Høyde / Vekt:

63 cm / 39 kg

Chip-nummer:

Synlig for registrerte medlemmer

Stamtavlenummer:

VDH/DMC 15/0209

2. stamtavlenummer:

SHBS 749278

Klubb:

Synlig for registrerte medlemmer

Utstilling:

SG 2

Bruksmeritter:

Synlig for registrerte medlemmer

Helseresultater:

Synlig for registrerte medlemmer

Eier:

Synlig for registrerte medlemmer

Oppdretter:

Synlig for registrerte medlemmer
Angekörter Rüde wurde ab 13.10... Mer

6

7040

Fornavn:

Patricia

Etternavn:

Schönfeld

Gate:

Postnummer:

By:

Land:

Telefonnummer:

E-post:

Hjem:
show kennel
bli_premium_åpne_alle_funksjoner
WD-Health: Health results of Vaxx Vaxxen von der Steinteichmühle

On working-dog the health data are taken very strictly.
Therefore it is possible to show the data verified by working-dog.
Green labeled results are checked, respectively occupied and can not be changed. Black marked entries are unaudited.


Spondylosis deformans


Elbow Dysplasia (ED)


Hip Dysplasia (HD)


Lumbosacral transitional vertebra


SDCA 1


SDCA 2


Dental chart
Scissor bite
(A normal scissors bite is where the incisor teeth in the upper jaw are in contact with but slightly overlap those in bottom jaw)
1. generasjon
2. generasjon
3. generasjon
15. April 2012

VDH/DMC 12/0110

Synlig for registrerte medlemmer

HD-A1, ED-0, LTV-0

Mecberger Duunari

(ML)

5. Mai 2004, FIN 30270/04

Synlig for registrerte medlemmer

HD-B/A ED-0/0 Spondy free
28. Okt 2007, DMC 07/401

Synlig for registrerte medlemmer

HD-A2, ED-0, Spondy-0, SDCA1-T/T , complete, DNA available, HD-A2 ED-0 Spondy frei, SDCA1-N/N
16. Mai 2010

VDH/DMC 10/0167

Synlig for registrerte medlemmer

HD-B1, ED-0, LTV-0
28. Sept 2004, DMC 04/370

Synlig for registrerte medlemmer

HD-A1, ED-0, HD-B ED-0 Spondy frei

22. Des 2005, VDH/DMC 05/579

Synlig for registrerte medlemmer

HD-A ED-Gf Spondy frei

Siste kunngjøringer av parring
+Mer
up from the Ground (breed rental)

Peter Stöckle

Parringsdato:

Synlig for registrerte medlemmer

Synlig for registrerte medlemmer

Fødselsdato:

Synlig for registrerte medlemmer

Synlig for registrerte medlemmer

Antall i kullet:

Synlig for registrerte medlemmer

Født:

15.03.2014

Bruksmeritter:

Synlig for registrerte medlemmer

Jürgen Schwendinger

Parringsdato:

Synlig for registrerte medlemmer

Synlig for registrerte medlemmer

Fødselsdato:

Synlig for registrerte medlemmer

Synlig for registrerte medlemmer

Antall i kullet:

Synlig for registrerte medlemmer

Født:

10.06.2016

Bruksmeritter:

Synlig for registrerte medlemmer

best results at:

Rank 39, 29. FCI WM 2019 - IGP3

latest result at:

Rank 3, 2019 Schweizermeisterschaft aller Rassen - IGP 3
Alle (6)
International (1)
Nasjonal (3)
Regional (2)