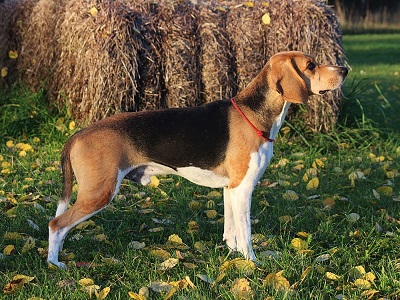 The Estonian Hound, also known as Eesti hagijas, is a nationally recognized breed of Group 6 by the Estonian Kennel Club.
History

In 1947, the breed was launched because it was decided by the Soviet Ministry of Economy that every Soviet Union republic should have its own breed of dog. Swiss Greyhounds, Dachsbracken, Beagle, Foxhounds and various Polish and Russian running dogs were the basis of the Estonian hound. The standard was set in 1954.


Standard

The bitches of the Estonian Hound should be between 42 and 49 cm tall, the males between 45 and 52cm. There is no weight requirement. He has a strong bone structure with good musculature, a straight, broad back, a round, medium-width skull with a medium stop and a catch / top head ratio of 50 to 50. The low-mounted floppy ears are close set to the head. The shorthair has little undercoat and is hard and shiny in the colors white with black, yellow and / or tan spots. The tip of the tail is always white.


Behavior

The Estonian Hound is a friendly, lively dog. As a hunting dog, it finds its use for hunting rabbits, foxes, lynxes and birds in many parts of Estonia, as well as in Russia and Finland.

Det finnes ingen hunder av denne rasen.
Les videre
Fortsatt ingen oppdrett assosiert med denne rasen!