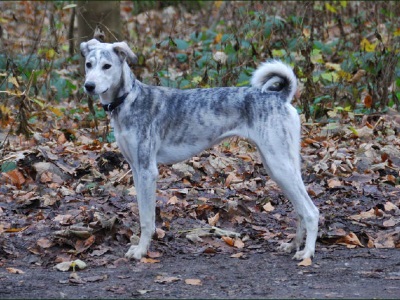 The Kritikos Lagonikos, also Kritikos Ichnilatis a breed recognized by the Greek (KOE) and German (VDH) national association, which is assigned to the FCI Group 5. It comes from Greece and is related to the Spanish Podencos. Already 4,000 years ago dogs of these type were used for hunting. The first breed standard was created in 1994. Despite the Kritikos Lagonikos is the national dog of Crete, he is still very rare.
Appearance

Most colours are allowed. The size is 52-60cm for males and 50-58cm for females, the weight is from 15-30kg.


Breed Uses

The Kritikos Lagonikos is nowadays mainly used for hunting hares, but also as a guard dog and a shepherd. He hunts with his nose and eyes and can be guided by his leader over great distances. He is agile, friendly, easy-going and intelligent. Cautious with strangers, with his family very social and quiet in the house. In the hunt he reaches speeds of 60 to 70 kilometers per hour.

Det finnes ingen hunder av denne rasen.
Les videre
Fortsatt ingen oppdrett assosiert med denne rasen!